Meet our people
If you want to know more about what it is like to work at DANX and what kind of jobs our people have here, then take a look at the below interviews with some of our people.
You are also welcome to talk to our Head of HR & Communication Malene Vig Hjarnaa on
+45 8820 1029
if you have any questions.
interviews
---
Name:

Kamal Javed


Job description

:Control Tower evening/night in Vallensbæk
Kamal started his career at DANX as a driver for one of our subcontractors. He quickly stood out as a brilliant driver with potential to manage a lot more than his own routes and was offered a job in our Control Tower – night and evening shift. At a typical work shift Kamal starts with importing EDI files from the customers – these files tell us what goods we will be distributing to which receiver. During the evening Kamal will also be optimizing the routes for the night and taking a look at the amount of goods that is planned for each car to make sure that it will all fit – and if not he will order extra cars/re-plan the routes.

At DANX the NIGHT is where all the action happens – if you visit DANX at night – there are lots of busy people, parcels and cars - all goods come in and are distributed into cars for the final routes or the parcels might be going further North to our colleagues in Sweden, Norway, Finland or the Baltics. During the night our Control Tower keeps track of the drivers – helps them with unforeseen problems and makes sure that delays are kept at a minimum, Kamal also helps pack the cars, informs the day shift of any challenges they have to solve and does a ton of other stuff…

"What I particularly like about my job is that I am working very independently – there is no boss telling me what to do – I have to figure out how to solve the problems myself, being creative and thinking quickly is very important. It is not unusual that the phone calls over 100 times during a shift." Kamal says

One last thing – you have to be good at languages – English as a minimum and German is also a very handy language. Kamal did not really speak German when he started at DANX but is now speaking a "fairly good" German! The plans for the future include a university degree, which Kamal plans to study for while holding on to his job in DANX – obviously Kamal does not need much sleep ☺ .
---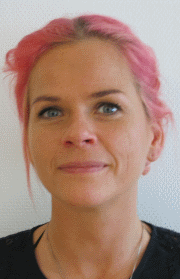 Name:

Maria Ellekær


Job description

:Controller

Maria is an institution at DANX! Having worked in the company for over 10 years – all of them in the finance department – she knows every detail about the company and has been part of the amazing growth that the company has undergone during that time. "When I started here our Friday morning breakfasts consisted of around 10 people – and that was the ENTIRE administration and operation in DANX", Maria explains. Today we are more than 180 employees in 5 countries and have more than 500 drivers.

Maria took over the entire finance department at DANX in 2005 – fresh out of school so to speak – having just served her apprenticeship with another company. Today the finance department consists of 7 people and Maria has the role of controller, which means that her primary tasks are invoicing of our customers, settling accounts with our subcontractors, controlling that invoices have been posted correctly and balancing the accounts at the end of the month. All this is done for all DANX countries so a good knowledge of other Nordic languages comes in handy. No problem for Maria who lives in Malmö in Sweden and speaks Swedish fluently.

Besides working hard with the accounts in DANX Maria also finds time to ride her own horse 5 times a week, be a mom to two kids and go for runs at least 3 times a week. How she does all that is a mystery – surely it must be an advantage to be good at counting the hours.